MDC FH4-AK Mini Flash Hider
Description
The FH4S-AK "Shorty" 4-Prong Flash hider is a highly effective muzzle device designed specifically for the AK platform, with a shorter length than MDC popular FH4-AK flash hider.
The FH4S-AK flash hider features multiple detent positions, allowing the user to find the perfect fit and position for your AK platform. Combined with MDC four prong design & Black Nitride finish, this makes the FH4S-AK the ultimate compact AK flash hider when overall length of your platform is a concern.
The FH4S-AK fits all standard AK variants with a 14x1LH barrel & will clear any projectile up to .30 caliber (0.311″).
Precision machined from US mill-certified heat-treated stainless steel bar stock.
Material : 17-4ph® Heat Treated Stainless Steel
Finish : BLACKNITRIDE™ – Satin Finish(Half Gloss)
Caliber : 7.62×39
Thread : 14×1 LH
Weight: 2.15 OZ
Length: 1.75
.862 DIAMETER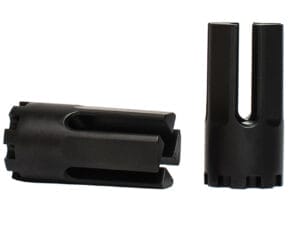 Only logged in customers who have purchased this product may write a review.